Ingredients
Rice:
⅓ C Mushroom
⅓ C Carrot
⅓ C Onion
½ lb minced chicken or beef
2 C leftover white rice
1 T worcestershire
1 T Mirin
1 T Soy sauce
1 T Ketchup
Sauce:
1 T Worcestershire
2 T Ketchup
1 T Mirin (sweet Japanese cooking wine)
1 T Soy Sauce
2 tsp Sugar
2 T Butter
2 T Flour
1 C Water or Broth
OR for Sauce: use Japanese Demiglace sauce if you can find it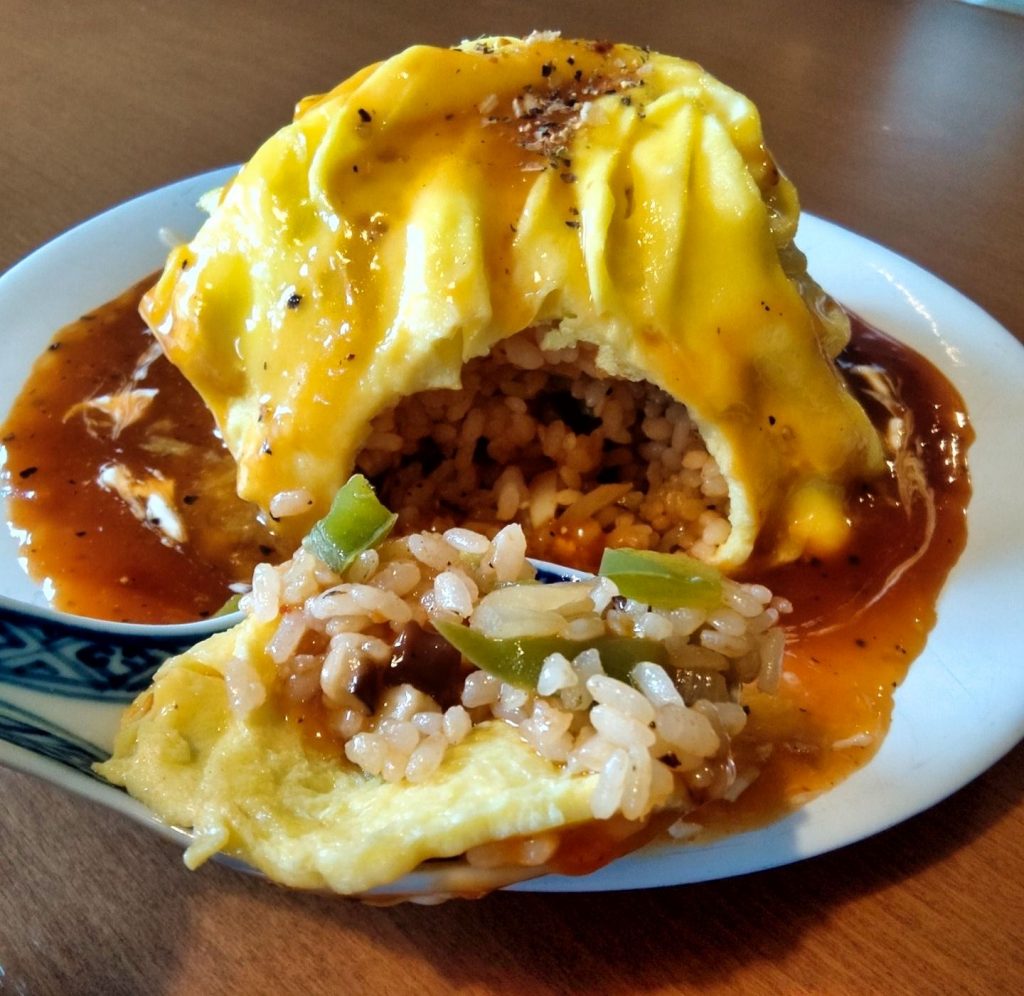 Directions
Beat 3 Eggs and then sift through strainer
*Highly recommend sifting for extra fluffy eggs! 
Make the sauce:
Melt butter on medium heat and whisk in the flour. Keep whisking until flour is browned. Don't let it burn!
Add water or broth and keep whisking until well combined.
Add rest of ingredients and stir (I switch to a .. at this point)
Add pepper to taste — seriously taste it here to see if you want to add more of anything. More sweet? Add sugar or mirin, More tangy? Add ketchup, More umami? Add worcestershire or soy sauce…
Keep warm and set to side
Make the rice:
Whisk together sauce ingredients
Heat wok or 10 in pan on medium heat
Add 1 T butter to the pan, melt
Add meat and brown
Add vegetables and stir until cooked through ~2 minutes
Add sauce mix to the pan and heat through
Add rice and thoroughly mix, gentle as to not smoosh the rice! Nobody wants smooshy rice.
Once cooked, spoon into a small bowl and place your plate on top of the bowl (see picture)
Place the plate down with the bowl still with it, remove the bowl and rice should be a nice, round shape!
Make the omelette:
Heat a small pan (8 in) on low to medium heat – you need a smaller pan to keep the shape!
Add oil to coat pan
Pour in the eggs
Once eggs are a bit cooked on the edge (runny but edge pulls up..) With long cooking chopsticks (you can use regular but long is MUCH easier to work with..) have chopstick in each hand and place opposite each other at edge of egg. Pull chopsticks to center with about 1 ½ – 2 inches between chopsticks. Slowly rotate the chopsticks until you cannot rotate any longer. Take off heat when egg is 80% cooked… it will still have gooey parts on top.
Plating
Carefully lay the egg from pan on top of the rice.
Add sauce around the sides and pour a bit over the top.
Optionally sour cream drizzled for more richness. Sprinkle with oregano.
Done!