Baked chili cheese dogs are perfect for a late-in-the-week, easy baked meal. I really enjoy cooking during the week but by Thursday I find it tough to focus after work. I grocery shop on Sunday or Monday so I often don't have fresh food at this point! I love having these as backup in the recipe book for the week. I prefer uncured, all-beef hot dogs, an all-bean chili, Franz hot dog buns, and sharp cheddar with onion to top.
The trick to baked chili cheese dogs is making a mustard/mayo mix to line the buns, which will keep them super moist for baking! You can also add your favorite mixings like sweet relish or ketchup. When you put it all together and then bake, it allows all of the flavors to meld. Do not forget to cover with foil or the buns will dry out. I recommend serving these with some broccoli, chips and use a fork and knife as they can be super messy if you use a lot of chili!
Ingredients
6 All-beef hot dogs
6 Hot dog buns
1 Can of chili (preferably just beans)
1/4 chopped onion opt'l
1/2 C shredded sharp cheddar
Mix together:
2 T Mayo
2 T Mustard (I prefer a spicy)
2 T Ketchup opt'l if you like ketchup
2 T Relish (or any pickling you like on hot dogs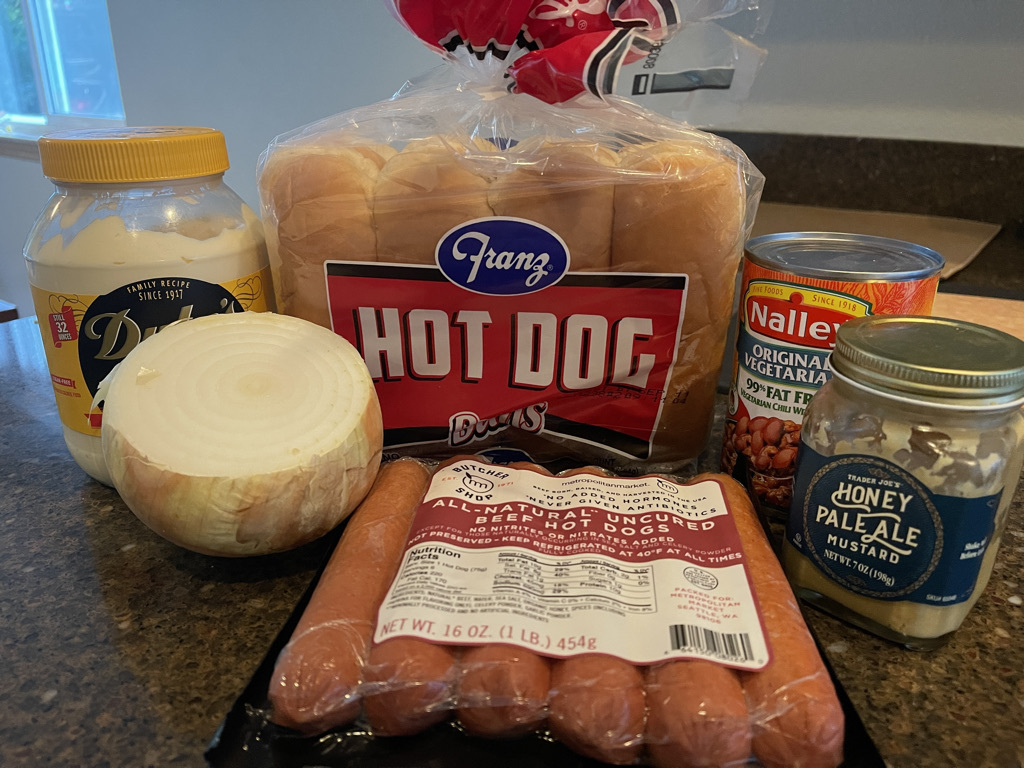 Process
Heat the chili in a pot on the stove
Opt'l slice hot dogs horizontally and grill for flavor
Turn oven on to 350 degrees
Spray a baking sheet or pan with oil
Lay out the buns in the pan and slather insides with the mayo mix
Lay the hot dogs in the buns
Top with chili
Top with cheese and opt'l onion
Cover with foil and bake for 25 minutes
Carefully remove from oven and let cool 5 minutes
Serve!